Italy at it's best!
From time to time Janet and I like to travel. Our most recent trip out of the US was to Italy. From time to time I develop web sites for folks. It just so happens that some friends at our church in Seattle have a daughter with a bed and breakfast just north of Florence.
Earlier...
It rained miserably on us in Rome, so we took the train to Florence and used that as our base for the rest of our visit. Our side trips to Sienna, CincaTerra and Pisa were by bus and train, but even so traveling through the country-side was exciting.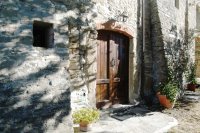 Now...
Janilee Jones has provided some photos from around her villa and I have used them to create a new web site for her; we can't wait to return to Florence and to visit
Janilee's Tuscan Villa
bed and breakfast
. Check it out and make your reservations. Janilee and her brothers were born in Italy, so she is fluent in Italian and English...and she knows the area well to provide travel tips.